As the National Coordinator and Chair of the T20 Italy, ISPI is promoting a series of 3 High-Level Forums which are intended as an international platform for debates on key global challenges and priorities for the Italian G20.
Under the claim "The Future is  Now: People, Planet, Prosperity", the Forums explore possible scenarios and viable policy options. They will engage top representatives from the political and business communities, as well as senior experts from leading think tanks and institutions worldwide.
The High-Level Forum on Digital Transformation, Co-promoted by ISPI and Deloitte, will be on June 9th, 1.30 pm CEST.
The Forum will address the following critical issues:
Reducing digital gaps between and within countries
Enhancing E-government and digital identity
Enforcing data protection and digital security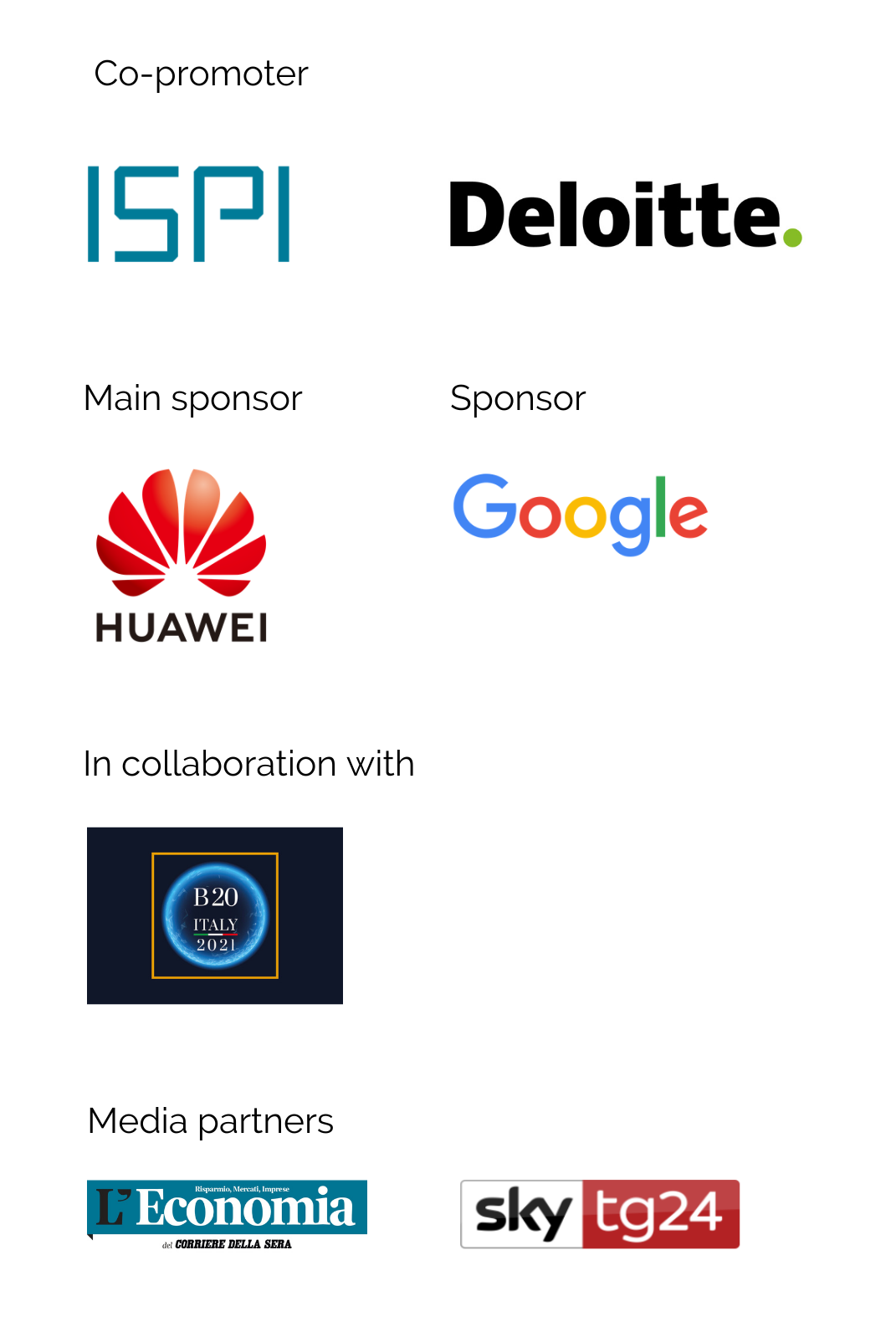 PROGRAMME
Download Programme
OPENING
1.30-1.45pm CEST
Paolo Magri – National Coordinator and Chair, T20 Italy; Executive Vice President, ISPI
Fabio Pompei – CEO, Deloitte Central Mediterranean
Anna Ascani – Undersecretary of State, Italian Ministry of Economic Development
FIRST PART | SCENARIOS
1.45 – 2.30pm CEST
Luciano Floridi – Professor of Philosophy and Ethics of Information, University of Oxford; Director, Digital Ethics Lab, Oxford Internet Institute
Nnenna Nwakanma – Chief Web Advocate, World Wide Web Foundation
Andrew Williamson – Vice President Global Government Affairs and Economic Adviser, Huawei
Karan Bhatia – Head, Global Government Affairs and Public Policy, Google
SECOND PART | KEY IMPLICATIONS
2.30 – 3.20 pm CEST
Technology, skills and the future of work
Raja Chatila – Professor Emeritus of Artificial Intelligence, Robotics and Ethics, Sorbonne University
Uma Rani – Senior Economist, ILO
Andrea Poggi – North & South Europe Innovation Leader, Deloitte
Linda Laura Sabbadini – Chair, W20
Peggy Hicks – Director, Division for Thematic Engagement, Special Procedures and Right to Development, OHCHR
3.20 – 4.10pm CEST
Cybersecurity, digital identity and the future of e-government
Anne Marie Engtoft Larsen – Tech Ambassador, Ministry of Foreign Affairs, Denmark
Andrea Rigoni – Government and Public Services Global Cyber Leader, Deloitte
Stefano Quintarelli – Chairman of the Steering Committee, Italian Digital Agency
Juwang Zhu – Director, Division for Public Institutions and Digital Government, UN DESA
Roberta Cocco – Deputy Mayor for Digital Transformation and Services to Citizens, Milan Municipality; Co-chairwoman, Advisory Committee for Digital Public Administration, Italian Ministry of technological innovation and digital transition
CLOSING
4.10 – 4.30pm CEST
Maria Chiara Carrozza – Lead Co-Chair of the T20 Task Force on Digital Transformation; President, National Research Council (CNR); Professor of Industrial Bioengineering, Scuola Superiore Sant'Anna
Maximo Ibarra – Chair, B20 Digital Transformation Task Force
Moderator: Mariangela Pira, Sky TG24