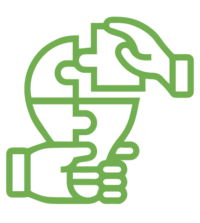 Global goals are inherently interrelated and therefore effective, comprehensive action taken towards one goal can support the achievement of others. Identifying and addressing these interconnections will help communities and their active institutions to build holistic and systemic solutions, amplifying progress and minimising negative impacts (un.org). The relevance of this policy brief to the G20 is embedded in its target of contributing to "People, Planet and Prosperity" as components of an integrated system. Engaging local human resources in the environmental pre-figuration and decision-making process can enable self-generated prosperity within developing countries.
The G20 is the most global platform for policy briefing and decision-making. As urban settlements already involve half of the world's population and are rapidly increasing, a moderation mechanism must be put in place to accelerate the achievement of the SDGs, starting
with SDG11 and SDG4.
Because global goals are inherently intertwined, effective global action taken towards one goal can support or hinder the achievement of others.

Anna Laura Petrucci
Dar Al Uloom University
Nicoletta Trasi
"Sapienza" Università di Roma