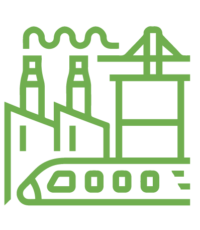 The collapse of supply chains and the dramatic shift in aggregate demand due to COVID-19 increased the significance of the strategic resilience of infrastructures as well as the importance of their being agile and flexible in order to address local-specific needs, especially
during times of distress. Most importantly, it indicated that an infrastructure is not a remote enabler of economic activities but an integral part of the vital value chains of businesses and households, and thus immediately linked with the welfare of the citizens. Shifting the
proximity of infrastructures closer to the value chain of businesses and households opens a window of opportunity to explore how digital technology tools can create significant improvements in the decision-making, financing and governance/agency efficiency of infrastructure projects. This policy paper identifies the challenges and opportunities of these three areas by introducing the concept of "digitally enhanced infrastructures", reflects on the promise and organisational challenges associated with these infrastructures, briefly
explores the ways in which they can neutralise the acute policy effects of the dichotomy between developed and developing regions, and provides practical recommendations to improve the existing infrastructures regime.
Sachin Chaturvedi
Research and Information System for Developing Countries (RIS)

Priyadarshi Dash
Research and Information System for Developing Countries (RIS)

Andrey Filippov
CENTERO

Chinny C. Ogunro
WellSpring Health

Dimitris Psarrakis
European Parliament

Veronica Vecchi
Bocconi School of Management

Vladimir Yakunin
Faculty of Political Science, Lomonosov Moscow State University