The Reform of the World Trade Organization: Key Priorities for the G20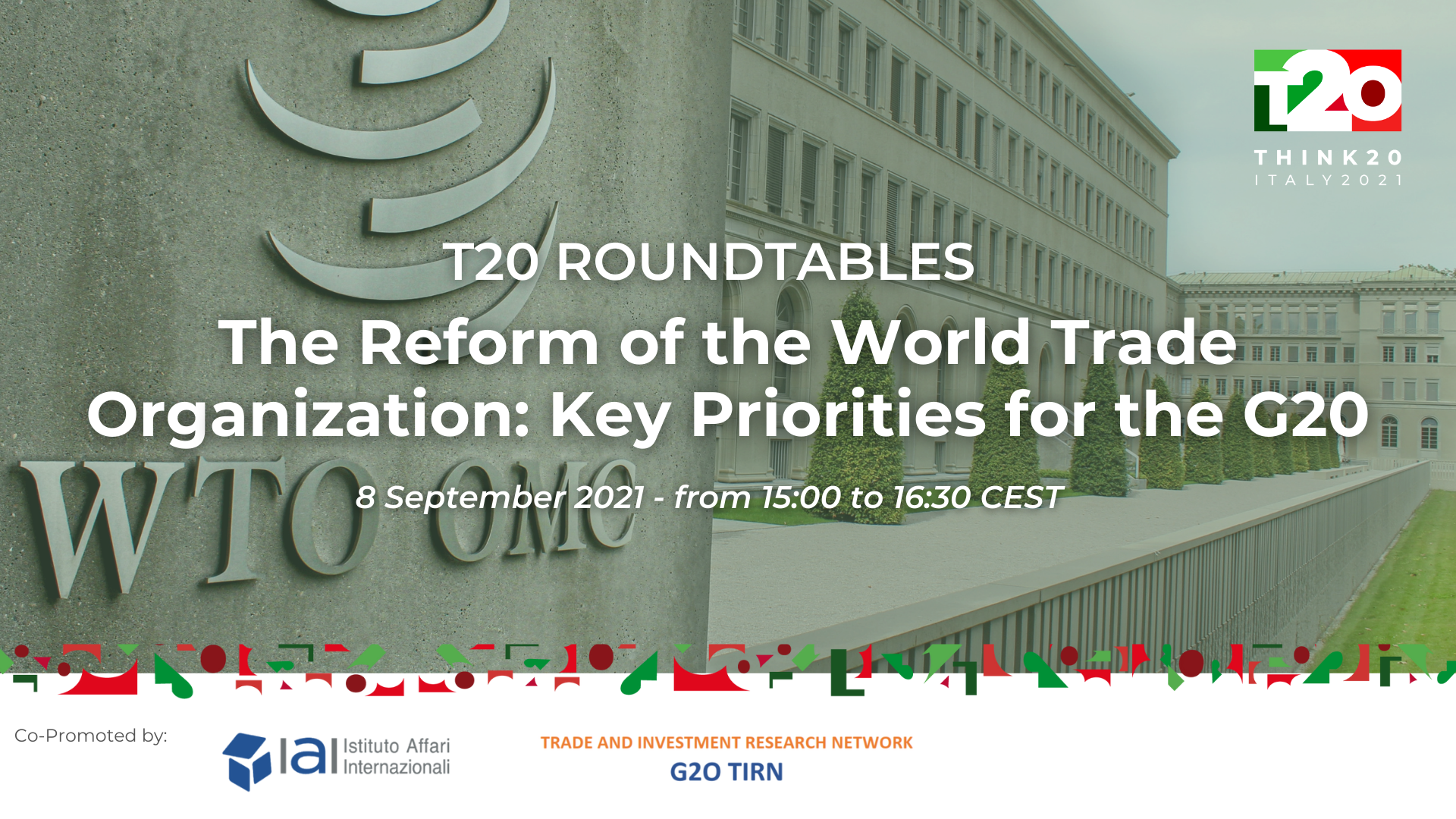 IAI, T20 Italy National Co-chair and TIRN (Trade and Invetsment Research Network), a cross-country, independent, network of trade and investment policy researchers jointly organize the webinar titled The Reform of the World Trade Organization: Key Priorities for the G20. The event takes place within the framework of the T20 Roundtables and will be held online on September, 8 from 15.00-16.30 CEST.
The webinar discusses key recommendations for the G20 in support of WTO reform. Discord among members over a variety of issues, including dispute settlement, the role of development or the launch of new trade initiatives, as well as increased trade tensions paralyzed the WTO to effectively realize its main functions in support of multilateral cooperation and sustainable development. For long it has been argued that the WTO needs to be reformed. Despite several reform proposals that have been tabled by stakeholders, the multilateral trading system remains at a critical junction.
The event is aimed at presenting proposals on WTO reform raised by several leading experts in the context of the T20 Italy process. The webinar provide a platform for results-oriented discussions among academia, policy makers and other stakeholders to discuss the WTO reform proposals prior to T20 Trade Ministers Meeting in October 2021.
The main focus of the event will be on how:
to converge and coordinate dialogue on emerging trends in trade-related topics amid deglobalization;
to restore the WTO Dispute Settlement system;
to encourage the key role of the G20 in promoting dialogue on plurilateral negotiations in order to revamp multilateral cooperation; and
to address the "developing country" status through a more flexible approach.
Among the participants of the event are Nicola Faganello, Chair of G20 Trade and Investment Group; Anabel Gonzalez, Deputy-Director of the WTO; and Pier Carlo Padoan, Vice President of IAI and Lead Co-chair of Task Force 3 "Trade, Investment and Growth" of the T20 Italy.